Lynne Kiesling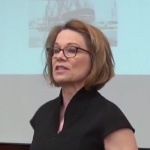 University : Carnegie Mellon University
Department : Engineering & Public Policy
Country : United States
Burnett, J. Wesley, and L. Lynne Kiesling. 2019. "Power Plant Thermal Efficiency as a Regulatory Mechanism: Implications for Emission Rates and Levels." Energy Policy 134. 
Kiesling, Lynne. 2018. "Toward a Market Epistemology of the Platform Economy." Advances in Austrian Economics 23: 45-70.
Kiesling, Lynne. 2016. "Implications of Smart Grid Innovation for Organizational Models in Electricity Distribution," in Chen-Ching Liu, Stephen McArthur, and Seung-Jae Lee, eds., Wiley Smart Grid Handbook. London: Wiley.
Boffa, Federico, and Lynne Kiesling. 2016 "Competitive Joint Venture Ownership of Networks as an Alternative to Regulation," in Arnold Picot, Massimo Florio, Nico Grove, and Johan Kranz, eds., The Economics of Infrastructure Provisioning: The (Changing) Role of the State. MIT Press.
Kiesling, Lynne. 2016 "The Connected Home and an Electricity Market Platform for the Twenty-First Century," Independent Review 20(3): 405-409.
Kiesling, Lynne. 2014. "Incumbent Vertical Market Power, Experimentation, and Institutional Design in the Deregulating Electricity Industry," Independent Review 19(2): 239-264.
Kiesling, Lynne. 2012. "Mirror Neuron Research and Adam Smith's Concept of Sympathy: Three Points of Correspondence," Review of Austrian Economics 25(4): 299-313.
Kiesling, Lynne. 2008. Deregulation, Innovation, and Market Liberalization: Electricity Restructuring in a Constantly Evolving Environment. Routledge Studies in Business Organizations and Networks. London: Routledge. (book)

Chassin, David, and Lynne Kiesling. 2008. "Decentralized Coordination Through Digital Technology, Dynamic Pricing, and Customer-Driven Control: The GridWise Testbed Demonstration Project," Electricity Journal 21 Issue 8 (October 2008): 51-60.

Kiesling, Lynne. 2009. "Retail Restructuring and Market Design in Texas," in Lynne Kiesling and Andrew Kleit, eds., Electricity Restructuring: The Texas Story, Washington, DC: AEI Press. (book chapter author, editor)

Kiesling, Lynne, and Bart Wilson. 2007. "An Experimental Analysis of the Effects of Automated Mitigation Procedures on Investment and Prices in Wholesale Electricity Markets." Journal of Regulatory Economics, 31 (2007): 313-334.

Kiesling, Lynne. 2007. "The Role of Retail Pricing in Electricity Restructuring," in Andrew Kleit, ed., Electric Choices: Deregulation and the Future of Electric Power. Rowman and Littlefield.

Kiesling, Lynne. 2005. "Using Economic Experiments to Test Electricity Policy," Electricity Journal 18 (November 2005): 43-50.